The Education as Disruption webinar series is a bias prevention learning opportunity part of our universitywide bias prevention campaign, Speak Up! 
The series is designed to raise awareness by (re)introducing students, staff, postdoctoral researchers and faculty to forms and histories of bias and how these show up at Rutgers across different social dimensions including, race, ability, gender, sexuality, immigration status, religion and more.
Guests of the show offer expertise on a range of topics, including building an inclusive academy, accessibility and disability, the consequence of and solutions for offense, the impact of oppression and more. Listen to explore diversity, equity, and inclusion concepts and language that are commonly used, but not well explained or understood.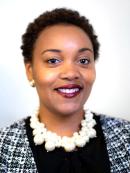 Joan Collier
Universitywide/Central Administration
Assistant Vice President for Equity and Inclusion (she/her)
Universitywide/Central Administration