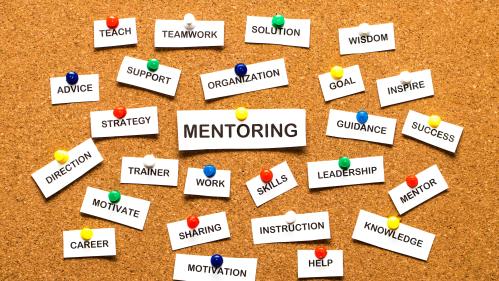 Mutual Mentoring Grant Program
Supporting the full spectrum of needs to sustain a diverse faculty
Applications for the Mutual Mentoring Grants Program are now open!
The online application form will require you to submit a short narrative and budget. The deadline is March 30, 2023 at 12 p.m. EST.
What is Mutual Mentoring?
The Mutual Mentoring program supports faculty at any career stage in developing robust mentorship networks, within and outside of Rutgers University, to combat isolation and ensure all faculty have the resources they need to thrive.
The Mutual Mentoring Program, developed at the University of Massachusetts-Amherst, is an established vehicle for providing comprehensive support to faculty that also gives them agency in defining the modes of support that will be most useful to support their success.
"Mutual Mentoring" distinguishes itself from the traditional 'top-down' model of mentoring by:
Encouraging the development of non-hierarchical, collaborative networks where each person provides specific areas of knowledge and experience.
Forming network relationships that benefit both the person traditionally known as the "mentee" as well as the person traditionally known as the "mentor."
Mutual mentoring has been proven to support faculty by helping them to develop their professional identities, promoting their well-being and job satisfaction, and improving productivity. Studies consistently find that mutual mentoring relationships lead to increased research output, more effective teaching, more dynamic networks, and improved tenure and promotion prospects. It nurtures vital social connections with colleagues who can provide advice, encouragement, and feedback over the course of a faculty member's professional life.
Mutual Mentoring Research
Abstract: In the beginning, "Mutual Mentoring" was little more than an idea, a hopeful vision of the future in which a new model of mentoring could serve as a medium to better support early-career and underrepresented faculty. Over time, Mutual Mentoring evolved from an innovative idea to an ambitious pilot program to a fully operational, campus-wide initiative. This article describes the conceptualization, design, implementation, and evaluation of a Mutual Mentoring initiative from 2006 to 2014. Findings indicate that faculty members who participated in this initiative were more likely to regard mentoring as a career-enhancing activity as well as to develop mutually beneficial mentoring relationships than were their non-participating peers.

Excerpt: In this model, early-career faculty build robust networks by engaging multiple "mentoring partners" in non-heirarchical, collaborative, cross-cultural partnerships to address specific areas of faculty activity, such as research, teaching, working towards tenure, and striking a balance between work and life. 
1. Provides support of up to $1500 per award to individuals who develop a focused mentoring network (comprised of up to three individuals – the applicant and up to two on-campus or off-campus mentoring partners

OR

2. Provides matching funds of up to $1500 for participation in the National Center for Faculty Development and Diversity (NCFDD) Faculty Success Signature Programs. (NCFDD Faculty Success Program or NCFDD Post-Tenure Pathfinders program). The source of matching funds (e.g., personal research and/or department level funds) must be disclosed.

 

Provides support of up to $6000 per award and supports networks of four or more faculty. Team grants may include a mix of types and ranks of faculty, as long as the majority of individuals meet the eligibility criteria.
Four Priority Mentoring Areas
1. Getting to Know the Institution
Understanding the academic culture of departments, schools/colleagues, and the institution; identifying resources to support scholarship and skill building; creating a trusted network of junior and senior colleagues.
2. Developing a Support Network
Forging career-enhancing relationships with faculty (at Rutgers or outside the institution) who share similar interest, challenges, and/or opportunities. Particularly encouraged are networks that eliminate isolation, including those that support the diverse needs of underrepresented faculty, mid-career faculty, and faculty interested in future leadership roles.
3. Excelling at Research
Developing a research/writing plan, identifying sources of internal and external funding, soliciting feedback on manuscripts and grant proposals, setting up and running a successful laboratory, or identifying outside scholars who could be external reviewers.
4. Understanding Promotion and Tenure
Better understanding of the tenure and promotion process – both for promotion to associate and promotion to full professor ranks, learning more about the criteria for evaluating research and teaching performance, finding support in developing the promotion dossier, soliciting feedback on the quality and quantity of work through the annual faculty review.
We welcome proposals from full-time Rutgers faculty on continuing appointments. We strongly recommend individuals interested in submitting a team and/or individual grant attend an information session on preparing a complete proposal. Two sessions will be offered in February.
Quality of the Mentorship Project
Proposal outcomes are detailed and clearly stated and build on the Mutual Mentoring model.

Clear alignment between intended outcomes and activities that address one or more of the priority mentoring areas.
Feasibility
Proposal activities are well-planned and can realistically be accomplished in the grant period.

Budget is reasonable, detailed and, when possible, provides contingencies for both remote and in-person cost to support the goals of the proposal.
Impact
Proposal describes how the project will affect the faculty member's professional goals, and rationale for this request to the Mutual Mentoring Program at this time.
Review our information session for project examples, grant proposal criteria, and timelines.
Frequently Asked Questions
You may apply as part of a Team grant application and also submit an Individual grant application during the same round. However, given that the Mutual Mentoring Grant Program is highly competitive, the review committee will consider equity of distribution of resources among faculty applicants. 

Full-time tenure track faculty, and full-time non-tenure track faculty on continuing appointments are eligible for the Mutual Mentoring Grant Program.

Part Time Lecturers, voluntary faculty appointments and Librarians are not eligible for individual grants, however we encourage them to partner with other faculty as a mentoring partner or as a core team member if the team already has four faculty who are on the tenure track, or non-tenure track with continuing appointments. 

The Core Team is comprised of Rutgers faculty who are invested in the mutual mentoring project, have participated in its development, and will engage throughout the project year in its administration. Eligible core team members are full-time tenure track faculty and non-tenure track (NTT) faculty on continuing appointments. Core team is comprised of four or more faculty and may include a mix of types and ranks of faculty or administrators, as long as the majority of the individuals on the core team meet the eligibility criteria. Mentoring partners do not play as key a role in the implementation of the project. They also can be faculty from other institutions. 
Please answer each of the questions within the word count limit.   

Heads/Chairs are required to review the project.  It is recommended to contact them early on in the application process as you are developing your proposal to avoid the possibility of last-minute unavailability. 
Your application does not need to include a mentor's confirmation that they will participate in the project. It is, however, important to demonstrate in your proposal that you have clear mentoring objectives and plans for addressing those areas. You may include potential mentors who you believe would participate in your project.

If you are wondering whether your idea is suitable for a Mutual Mentoring grant application: first, review the guidelines, look at past examples, and consider the MM priority areas to see if your project fits within these parameters. Past examples on grant projects can be found on the UMASS Mutual Mentoring site where the program first originated. Also, the Faculty Diversity Collaborative welcomes your questions, so feel free to contact us.    

We would like to see proposals that clearly identify a listed Priority Mentoring Area, have well-articulated project goals, and expected outcomes, as well as describe what impact funding the project will have on future success for the participant(s). Projects should also build upon the Mutual Mentoring model by creating a network of support for participant(s), and help promote an understanding of Equity, Inclusion and Diversity, and/or investment in relationship building across difference. Finally, budget expenses should adequately demonstrate and justify purpose of funding.

Intra-departmental, Inter-departmental, Interdisciplinary, Cross-institutional and Affinity-based team proposals with a clear mentoring component are encouraged to be submitted.
Affinity-based proposals for example could propose the creation of mentoring groups/ networks for Women in STEM, LGBTQ Scholars, Diverse Academic Leaders etc. 
You can ask for reimbursement for those costs that are directly related to carrying out your mutual mentoring project, under the guidelines of Rutgers Travel and Business Expense Policy. It is recommended that you review your budget with your department's budget officer in advance of submission. 

Yes, emeritus faculty members can be included as a mentoring partner, but only be compensated for their participation according to university guidelines.