In a mural created by Rutgers-Newark BOLD scholars and acclaimed artist Adama Delphine Fawundu, a blue figure with her arms outstretched to the sky symbolizes freedom and womanhood. But to her creators, she also represents something more personal.
"When this mural was being created, the students mentioned their grandmothers,'' Jennifer Bucalo, director of RU-N's BOLD Women's Leadership Network, said at the mural's unveiling. "They took time sharing their memories and stories and we discussed words that described our grandmother's life and legacy. This mural is dedicated to everyone's grandmother.''
The seventy-foot high artwork Courage, emblazoned on the facade of Project for Empty Space, a woman-owned arts organization co-directed by alumna Rebecca Jampol (NCAS '13), and partner in the creation process, was born from a series of conversations between the BOLD students and Fawundu, a Brooklyn artist, who incorporated a textile design created by her late grandmother, from Sierra Leone. 
"She helped put the kids through college by selling the fabric she made as a seamstress," said Fawundu.
The result of her collaboration with the BOLD scholars, a diverse, intergenerational group of junior and seniors, is a figure with cowrie shells encircling her waist, her back to the viewer, as she rises upward against a brilliant background of orange and yellow.
She is connected to the earth through tree-like roots and surrounded by cherry blossoms – a suggestion from the students, who had been volunteering at Branch Brook Park during the collaboration. At the base of the mural is a quote by Sojourner Truth, abolitionist and women's rights activist: "Because of them I can now live the dream. I am the seed of the free, and I know it. I intend to bear great fruit.''
A neighboring mural of Truth by artist Grace Lynne Haynes,  a version of her New Yorker magazine cover illustration, sits next door to Courage, which overlooks Edison Place across from the Prudential Center. The students wanted their mural to complement Haynes' portrait of Truth. 
Although the mural embodies several themes, honoring ancestral power was one of the most significant, said creators. "We wanted to pay homage to those who came before us,'' explained Lanae Ali, a senior majoring in criminal justice and an Honors Living Learning College student.
At the unveiling event, hosted by Project for Empty Space, Ali asked the crowd to observe a moment of silence. "I'd like you to reflect on the women in your life and the impact they've had on you,'' she said.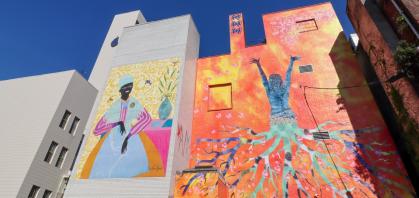 Referring to everyday women and those well-known for breaking barriers, she added, "Their courage to go against societal norms and injustices with the knowledge of what consequences would come has led us to a more promising future for those that followed.''
During a series of Zoom meetings, Ali and other BOLD scholars exchanged ideas, which Fuwundu incorporated into the design as it evolved. The students wanted the figure in the mural to be universal, with no single race or ethnicity. It represents the concept of womanhood – "femme" — rather than depicting a specific gender.
When one student envisioned a figure with no legs, Fawundu added tree roots instead of human limbs. "Like a mermaid or another mythical creature,'' she said.
Student Deborah Alonge, a rising senior at SASN and biology major in the Honors Living Learning College, said that every woman in the 29-member group helped determine what the mural would become.
"It contains the voices of all the BOLD scholars,'' she said.
The BOLD Women's Leadership Network, a national organization funded by the Helen Gurley Brown Foundation, focuses on gender parity and strives to empower women and those who identify as women. Brown, the legendary editor of Cosmopolitan magazine, proudly declared herself a feminist when the term was anathema in popular culture.
Executive Vice Chancellor Sherri-Ann Butterfield said the mural showcased the spirit of RU-N's BOLD women. "Our phenomenal scholars represent the very best of Rutgers-Newark. Aside from being frightfully brilliant, they are social change agents and just good people....We came together in the name of Courage that represents who are now and what we believe in.''
At the ceremony, BOLD alumna Yeimy Gamez Castillo, an artist, sang and recited poems from her Project for Empty Space exhibition, Unravel, which revisited the theme of ancestral connection.
"I wanted to try and imagine that as I am healing and singing and using my voice, so are the women in my family at this moment," she said.