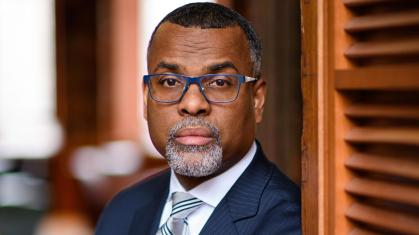 In an effort to build inclusive academic communities, institutions are asking tough questions about the role they play – not only as places where people from various backgrounds and experiences go for intellectual growth, but as places that provide a framework for excellence that regards diversity, equity and inclusion as key drivers of success.
The Building an Inclusive Academy Symposium served as a forum to understand why pursuing an inclusive academy is important and explore ways through which it can be achieved. With the launch of strategic planning process, Rutgers has engaged its community in that work - to help assess and align university efforts to chart an inclusive path forward. 
At a MLK Day event hosted by Rutgers University-Camden titled, From Chaos to Community: A Conversation with Eddie S. Glaude, Jr., Rutgers President Jonathan Holloway opened by reflecting on the troubling state of the nation and praised Glaude for his willingness to speak with nuance, insight and integrity, on topics of race, citizenship, faith and justice.
With Glaude's particular point of view in mind, Rutgers Senior Vice President for Equity Dr. Enobong (Anna) Branch, ask him to reflect on the role of the institution "in the push for a just future." Glaude's response covers the need for universities to "democratize what we offer", reflect the diversity of the global community, leverage university resources and reevaluate admissions practices to offer opportunity to a broader group of people.
Watch the full video below.