"Black Portraiture[s] VII: Play & Performance"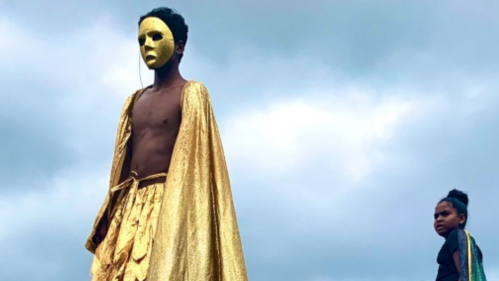 "Black Portraiture[s] VII: Play & Performance" Coming to Newark
By Salamishah Tillet Array
In this moment of profound uncertainty, reconnection, and newfound creativity, the organizers of the Black Portraiture[s] conferences invite the submission of abstracts summarizing a paper, panel, or performance related to the role of "play" in past and contemporary African Diasporic art, performance, liberation struggles, and cultural work.
Play is a capacious term. It connotes leisure, desire, and jouit, or indicates musical or athletic virtuosity. Play can be liberatory as in racial masquerades or gender mimicry. But, it can also be oppressive as well. Pantomimes and minstrelsy have a racist history; while physical sites of play and public recreation have also been places of segregation and discrimination.
More subversive types of play engage the absurd, the excessive, or the spectacular; and the term "play" itself can signify sexual power relations. At the same time, play, as in the Trinidadian concept of "to play mas" during Carnival, or other similar traditions like the Mardi Gras "Indians" in New Orleans or Junkanoo in the Bahamas, can be the basis of political resistance and radical performance.
We are interested in how African diasporic visual and performing artists and cultural workers have interpreted these ephemeral concepts, ones that can start in the fluid spaces of black childhood, reclaim community and Black utopic spaces, or re-imagine the interconnections between play and race, gender, history, or freedom.
Initially, a colloquium at Harvard University on African American art convened by Henry Louis Gates Jr., The Alphonse Fletcher University Professor and Director of the Hutchins Center for African American Research at Harvard University, Dr. Deborah Willis, University Professor and Chair of the Department of Photography & Imaging at the Tisch School of the Arts at New York University, and Manthia Diawara, Professor of Comparative Literature and Cinema at New York University. Then it went on to Paris, becoming an international conference series, co-hosted by Awam Amkpa, Professor at NYU Tisch School of the Arts and Cheryl Finley, Inaugural Director of the Atlanta University Center Collective for the Study of Art History and Curatorial Studies, Black Portraiture[s] now attracts hundreds of scholars, artists, and activists from around the world each convening.
As part of the conference, we will also host three exhibitions that take up these themes. The Paul Robeson Gallery at Express Newark will host an exhibition that meditates on themes of black girlhood through the eyes of Black women and girl photographers. Curated by Jasmine Wahi and Rebecca Jampol, the Project for Empty Space gallery will also host the debut solo exhibition of photographer and activist, Scheherazade Tillet, whose practice uses site-specific work to explore the themes of gender, racial identity, and play as a form of freedom for Black girls. The Newark Museum of Art will host Saya Woolfalk's exhibition Tumbling into the Landscape and her related interactive installation/intervention at Shine Portrait Studio at Express Newark.