Building Support for Adults with Autism Spectrum Disorder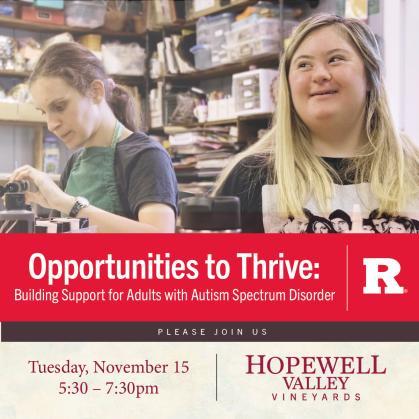 The prevalence of autism and autism spectrum disorder is increasing across the United States, with a particularly high incidence rate of 1 in 35 affected individuals in New Jersey. Adults on the autism spectrum and those with other developmental disabilities face a distinct lack of support to lead independent and fulfilling lives, including functional living skills education, occupational training, and residential services. 
As long-time supporters of individuals with autism, Sergio and Violetta Neri of Pennington Adult Living Services and Hopewell Valley Vineyard are hosting a free event for the community to learn from Rutgers researchers, hear personal stories, and discuss the need to expand independent living services in New Jersey.  
Please join this community discussion on research advancements and increasing support for adults with autism to live independent, meaningful, and happy lives.